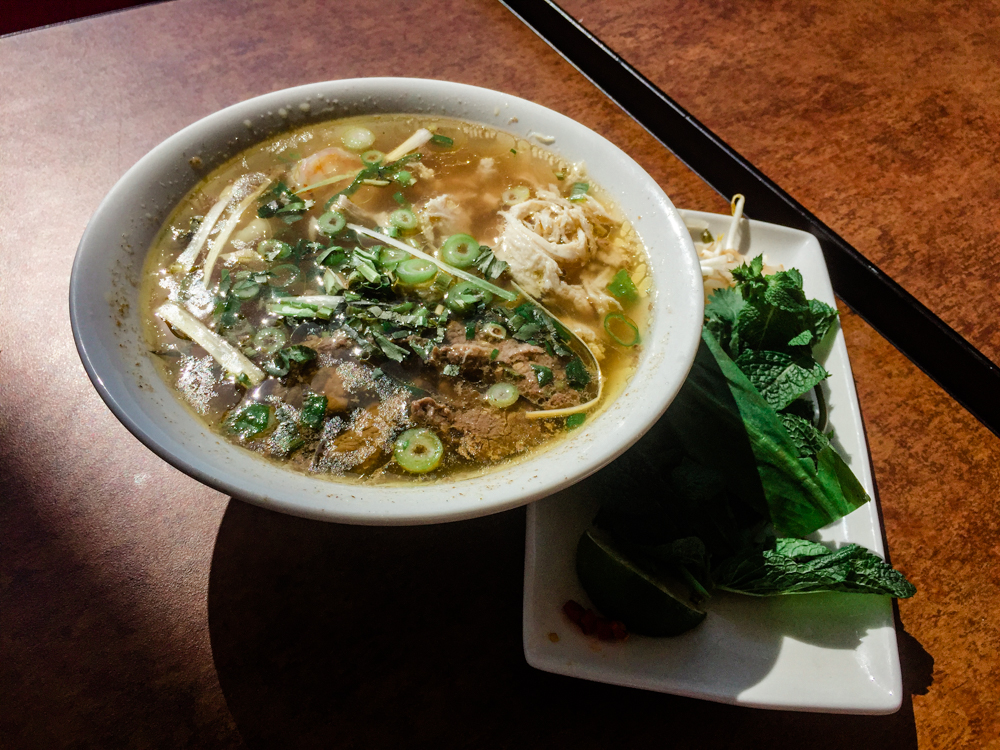 Sometimes, an afternoon off to relax and enjoy good food is all you need, and when the sun is shining with glorious views, it really is the answer.
Pho in Gunwharf Quays recently opened and I was lucky enough to be invited to try the new restaurant with a friend. Vietnamese is one of my favourite cuisines. It's fresh, colourful and incredibly delicious. Always. So I absolutely had to try Pho.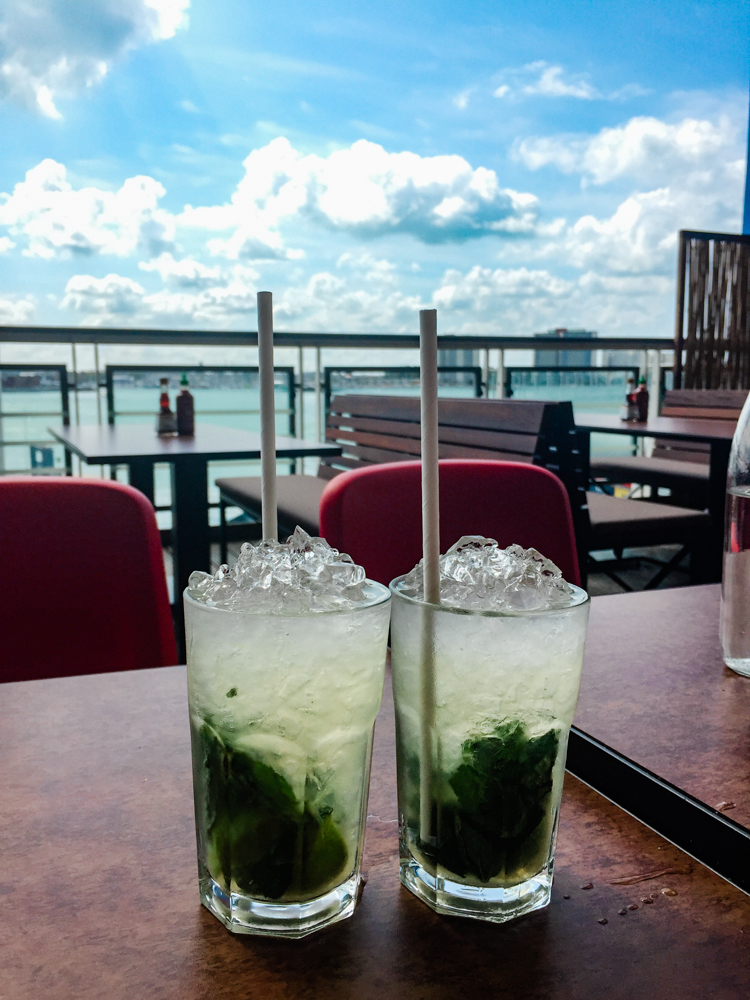 We were so blessed with the weather that we absolutely had to sit outside with the views out to the solent, and seeing some of the boats in the Marina, it was heavenly. It was perfect cocktail weather. I, unfortunately wasn't drinking, but my friend certainly was and I had enjoyed the most delicious cocktails.
When we sat down we just had to take it all it in and totally forgot about our menus for a good ten minutes or so. Our lovely waitress Bianca was so patient. We didn't feel rushed to order at all it was great. We started off with a cocktail and a mocktail for me – a Phojeto and a nojeto. They were both amazing. I had a little sip of the Phojeto and devoured the nojeto – I don't think I've ever enjoyed a mocktail so much.
Choosing our lunch was too difficult. There were some absolutely delicious sounding dishes on the menu I probably would have ordered them all if I could. So we had to get Bianca back to recommend us a few dishes, and she really did know the menu. I feel its so important for staff to have tried the menu and know what tastes good to recommend to customers.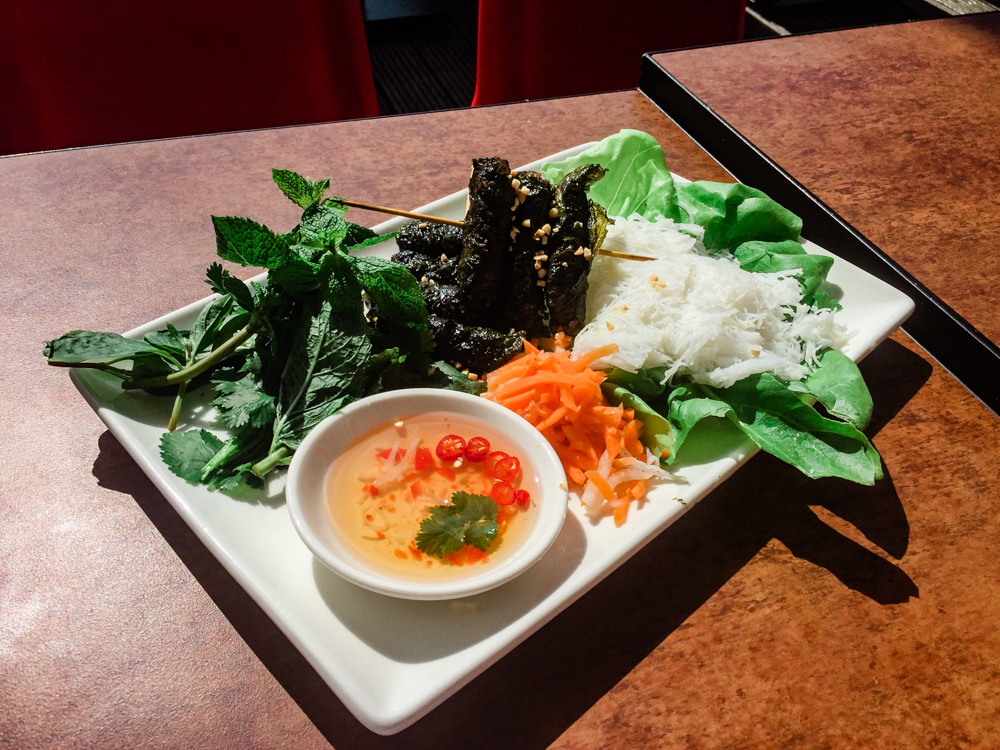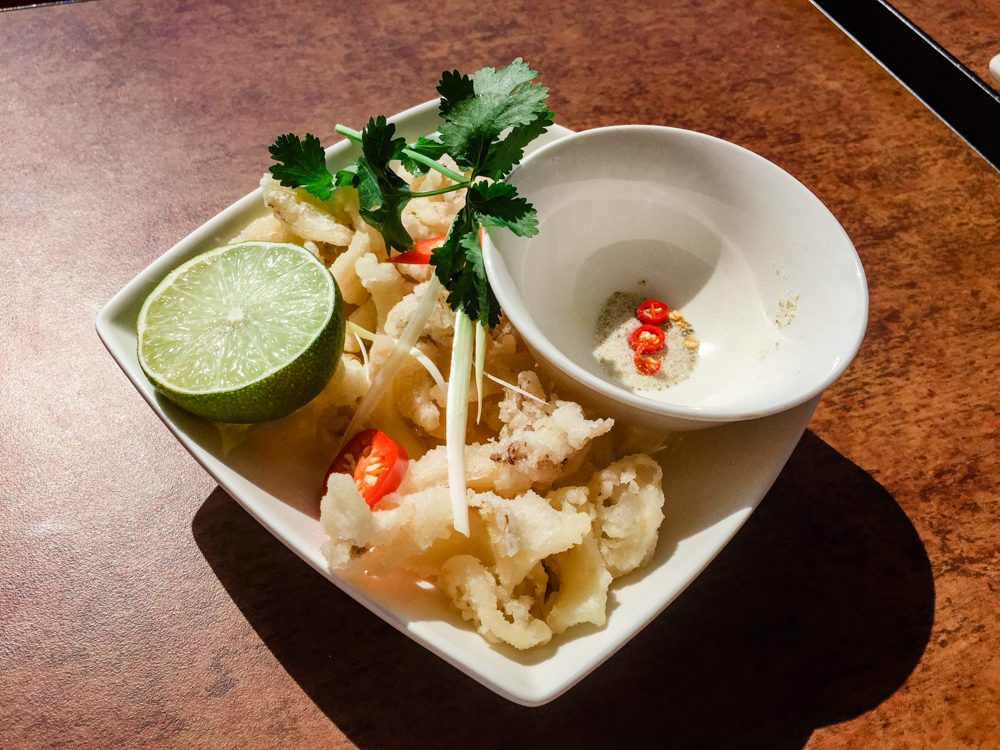 Based on the recommendation we went for the MỰC CHIÊN GIÒN (Tender fried baby squid with a salt, pepper & lime dip) And boy what a flavour punch. The BÒ LÁ LỐT (Beef wrapped in betal leaves, served with rice vermicelli sheets & nuoc cham) was insane. It was fun to make, building it yourself and tasted so good it was unreal. And the MỰC CHIÊN GIÒN, just wow. Squeezing the lime into the flavoursome seasoning to then dip the squid into just really added to the flavour.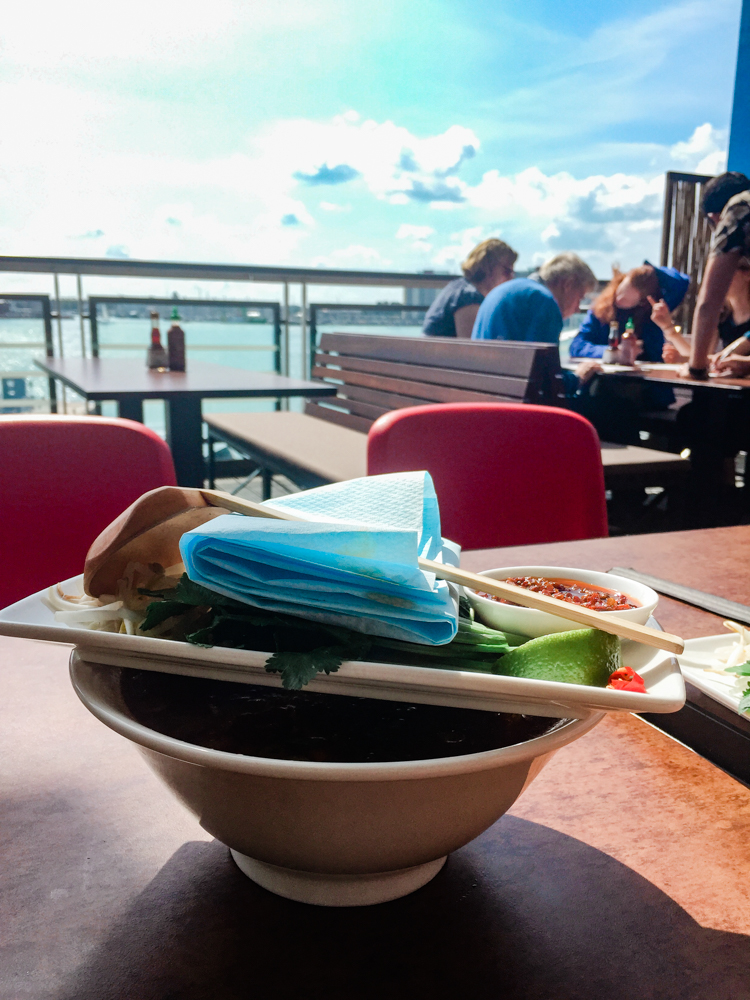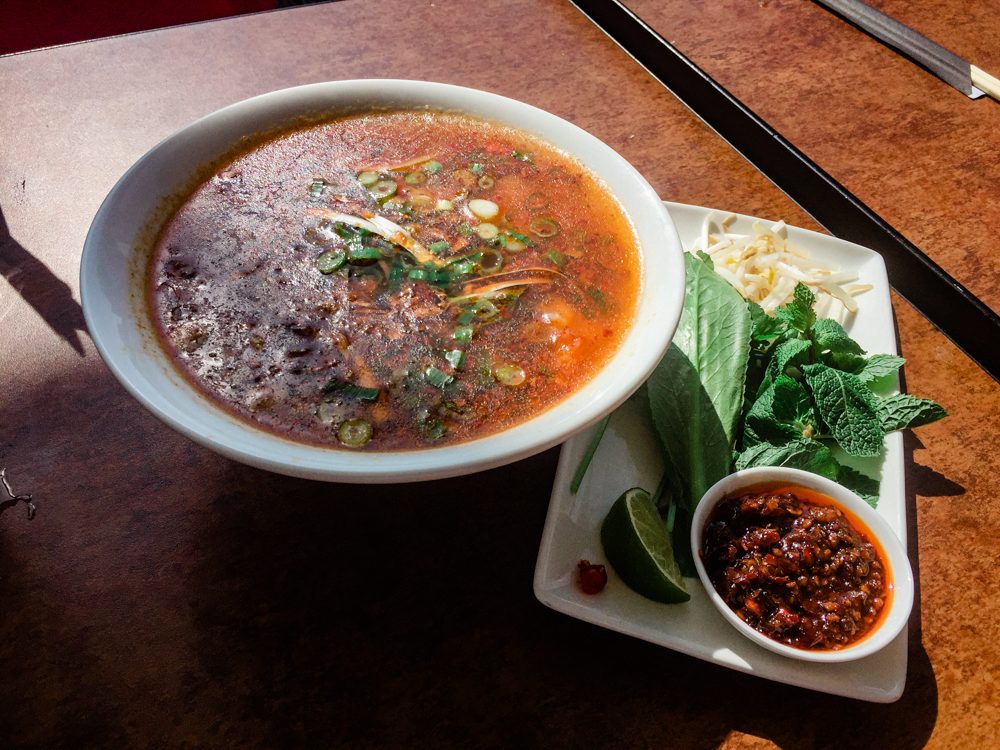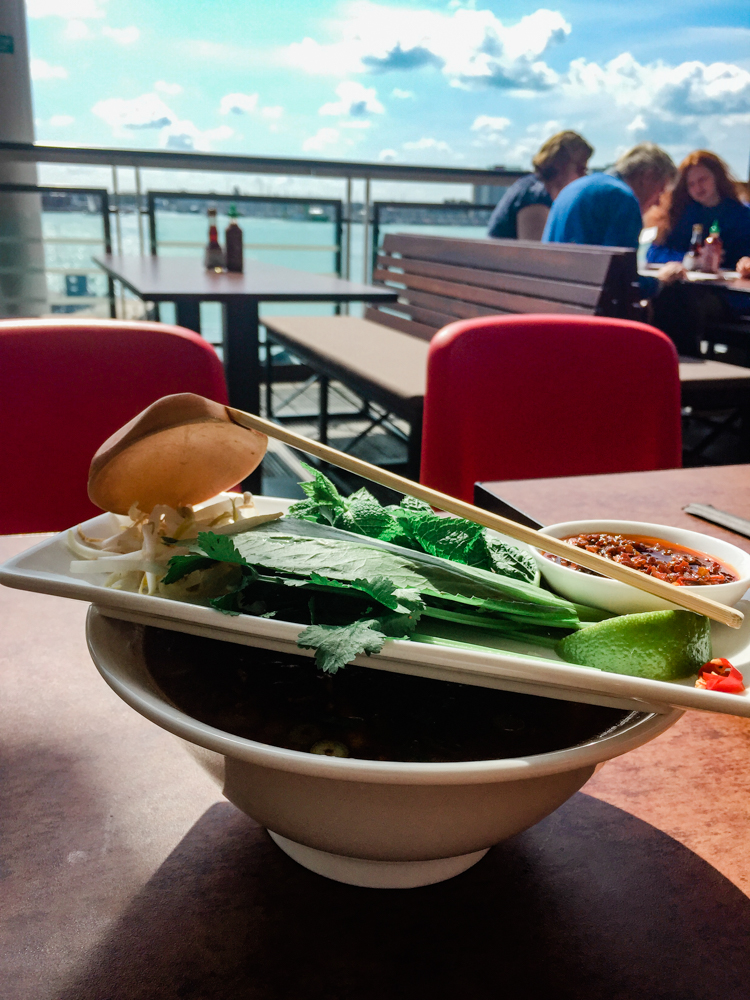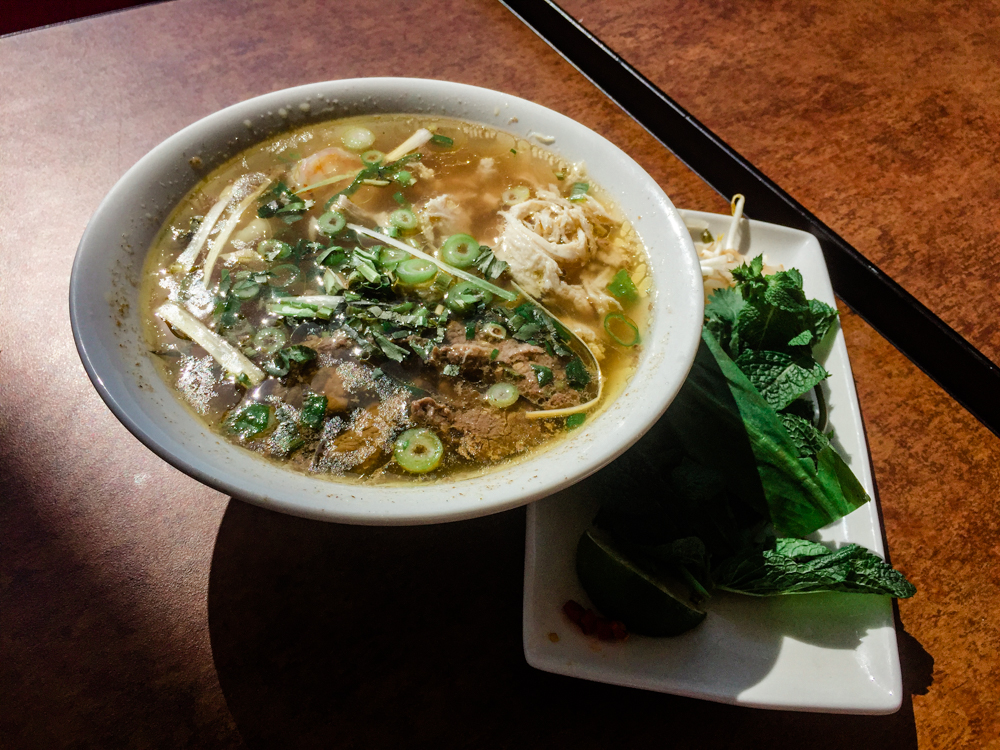 For our mains I absolutely had to have a big hearty bowl of Pho. But I wanted something with a little kick to it. I love spicy food, I add crushed chillies to everything almost 3 times a day, so I did really fancy something with a bit of an extra dimension to it. So I ordered the BÚN GÀ HUẾ (aHot & spicy chicken pho) and the heat really did take me by surprise. At first I got the flavour and then the heat just hit me. It took a few spoonfuls to get accustomed to, but once I did I finished the lot. My friend ordered the PHỞ GÀ (Chicken breast in chicken broth) and I did get a little bit of food envy as it also tasted so good, but we were both so happy with our dishes we couldn't leave a drop.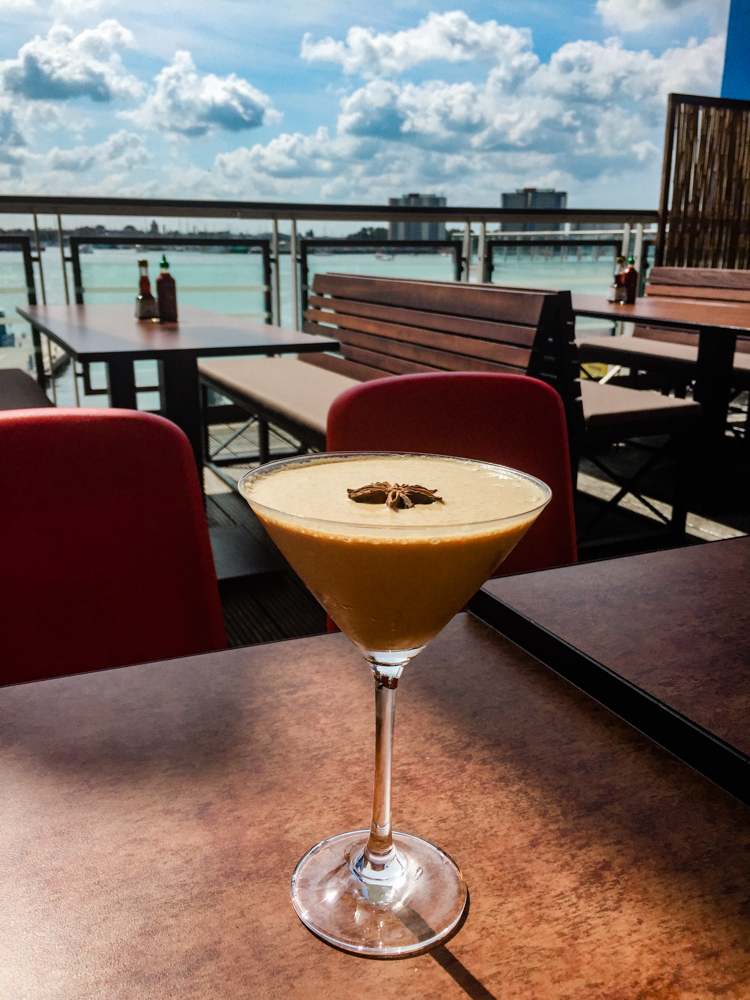 My friend enjoyed a few PHOJITO (white rum, mint, lime & soda) & CÀ PHÊ MARTINI ( Hà Nội vodka, Vietnamese coffee, condensed milk) whilst we sat overlooking the marina and Solent whilst I drank a few mocktails. We would have enjoyed a pudding, and the menu looked fab, but we just couldn't fit it in. Although I hope next time I can get to enjoy a pudding to have the full experience of Pho.
We absolutely loved our visit to Pho in Gunwharf Quays, and hope to visit back again very soon.
Charlotte X
Website: https://www.phocafe.co.uk
Disclaimer – complimentary meal in exchange for the review